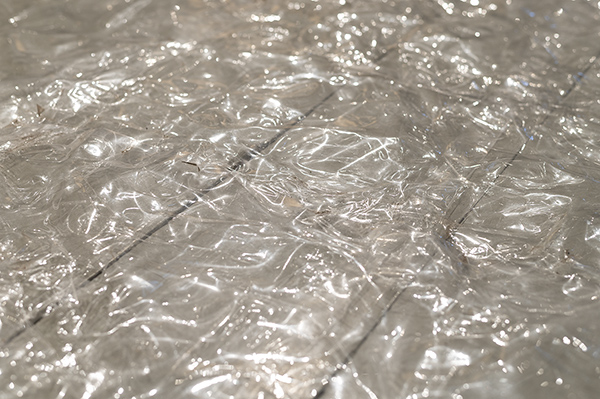 Previous Next Previous Next Previous Next Installations A watery layer of branches and leaves Møstings Hus, 'Nature Symphony', Frederiksberg, Denmark. September – November 2022.Deformed clear acetate sheets, tape, wooden frame. Variable dimensions.   Assisted by Marina Siani. Photos by Torben Eskerod and George Koutsouris.  Description Next to the entrance of the exhibition, a floor area of about […]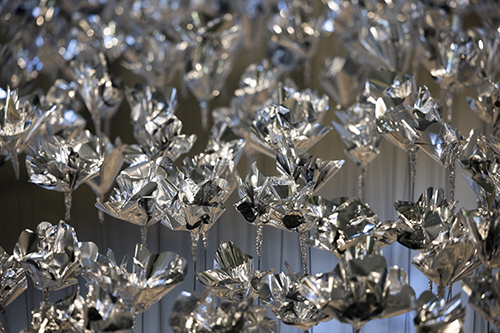 Previous Next Previous Next Installations Moving plants Møstings Hus, 'Nature Symphony', Frederiksberg, Denmark. September – November 2022.Mylar, spring steel, line, wood, mechanical components, motors, electronics, programming. 360 cm x 250 cm.  Assisted by Marina Siani. Photos by Torben Eskerod.  Description This mechanical sound installation, consists of 495 flower-like plants, made of steel wire and mylar. Nine […]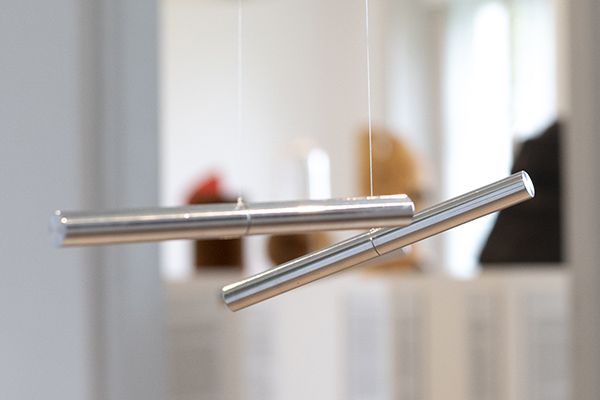 Previous Next Previous Next Installations The moment of concurrence Kunsthal Sophienholm, 'Spor af Niels Bohr', Lyngby, Denmark. May-August 2022.Aluminium rods, plexiglass, fishing line, wood, various mechanical components, electric motor.Variable dimensions. Description Four aluminium rods of slightly different lengths are suspendent from thin lines and are set in circular motion by the transparent rotating discs on […]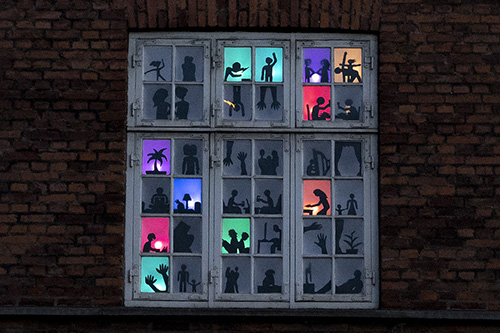 Previous Next Previous Next Installations Lock down Copenhagen, Denmark. May 2021. Paper, cardstock, LED lights, control board, programming . Variable dimensions. Description The work is inspired by children's narrations and drawings during the lockdown periods in Copenhagen.⁠ ⁠⁠ Part of the project 'Mindre end støv', in collaboration with composer Alexandra Hallen and choreographer Ingrid Tranum Velasquez.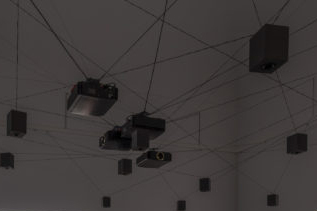 Previous Next Installations 'Crossings' – Sound Spatialisation, loudspeaker construction 'Crossings' (2017) by Angela Melitopoulos in collaboration with Angela Anderson. Four-channel video and sixteen-channel audio installation. Kunsthal Charlottenborg, Copenhagen, Denmark. November 2018.Acoustics, design – loudspeaker construction, 16-channel sound spatialisation setup: George Koutsouris. All photos by Anders Sune Berg. Courtesy of the artist. Other views of the […]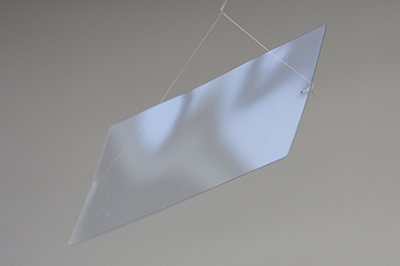 Previous Next Installations The flight of transparency Installation view: Kunstnernes Efterårsudstilling (The Artists' Autumn Exhibition) 2018, Den Frie Udstilling, Copenhagen, Denmark. October 2018.Clear acetate sheets, fishing line, acrylic, wood, mechanical components, electric motors.Variable dimensions. Description Two clear acetate sheets fly in space with the aid of fishing lines and costantly rotating disks. The flight of […]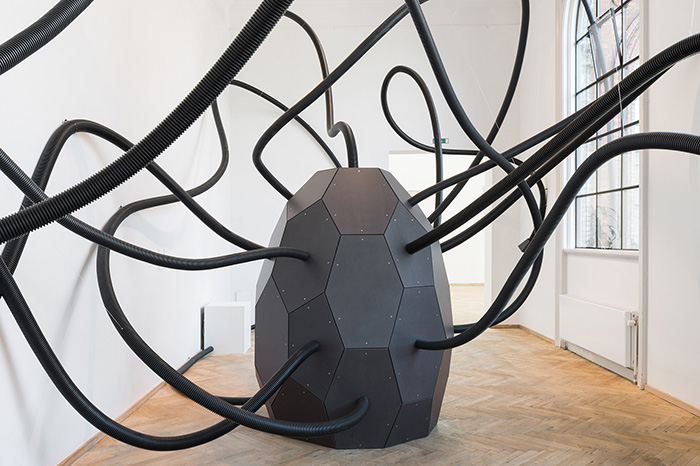 Previous Next Previous Next Previous Next Previous Next Previous Next Sound Sculptures A strangers attractor Kunsthal Charlottenborg, Copenhagen 2018. Plastic cable pipes, normal and black MDF, wood, varnish, sustainable sound absorptive material, acoustic fabric, acrylic mirror, steel fasteners, clear line, 8-channel electroacoustic installation (loudspeakers, microphones, PC, 15' real-time echo composition), text. Dimensions variable. Sponsored by Dietzel […]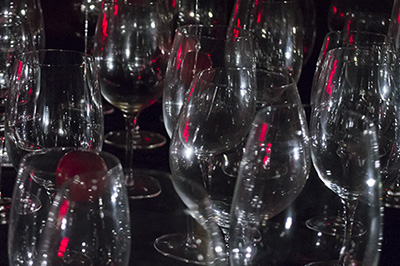 Previous Next Installations Fragile objects, inside a heavy, steel, industrial barge Illutron (PulseWorks 2017), Copenhagen, Denmark. October 2017.Fine tuned wine glasses, beechwood balls, steel wire, paint, varnish, mechanical components, AC motor.Dimensions: 150cm x 150cm x 200cm.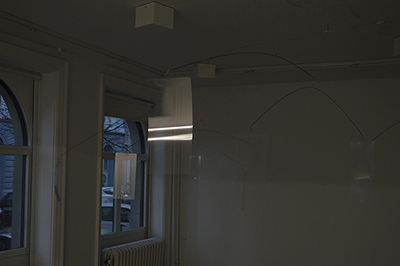 Previous Next Previous Next Installations High frequency turbuence Q space, Studies in Turbulence, Copenhagen, Denmark. November 2016. Clear acetate sheets, spring wire, monofilament line, steel rings, MDF boxes, electric motors, cabling, light from the street through the windows. Description Turbulence is a state of unrest, chaos and instability, where energy is dissipated at its highest […]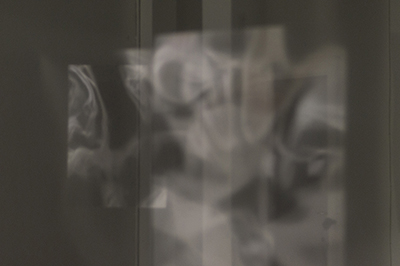 Previous Next Installations Low frequency turbulence Q space, Studies in Turbulence, Copenhagen, Denmark. November 2016. Clear acetate sheets, monofilament line, steel rings, MDF boxes, electric motors, cabling, light from the street through the windows. Description Turbulence is a state of unrest, chaos and instability, where energy is dissipated at its highest degree. A condition of violent disturbance […]